Maurice, mobile wine bar
" My great uncle "tonton Maurice" used to drive this mythical model of our French countryside. Released in 1961 - a great year for wine lovers - it quickly conquered a wide audience: in large companies, in farms, in the countryside as a mobile grocery store and even as a "paddy wagon" for the police. I was committed to restoring one. I bought an early version and worked with local craftsmen to transform it into a traveling wine bar: is a piece of our heritage that awakens memories and attracts sympathy wherever it goes. "
But, who is Maurice?!
Maurice is a Citroën HY, the legendary vehicle of our French countryside. A rare model, it belongs to the first versions of HY. Equipped with a double windshield, and arrows as turn signals, it will delight the lovers of beautiful machines. On the market for nearly forty years, it has crisscrossed the roads of France and can be seen in many films, series or cartoons : Louis La Brocante, Fantômas, Les triplettes de Belleville.

In 2012, Jacques Soulat found a model in poor condition, and of a sad gray - which was at the time the most common color among the 14 ones offered, including some reserved for the administration. With the help of local professionals (Carrosserie Rougier, Garage Morales, Galerie MR), the small truck was lovingly repaired and painted olive green. Since, "Maurice Wine Truck" - its full name - has been happily traveling the roads of the Charente.

If you don't come to Maurice ... Maurice will come to you!
Maurice is a vintage mobile wine bar: it offers an original and unique animation in the place of your choice. Full of charm and elegance, Maurice is the darling of all parties: an aperitif with friends in the middle of the vineyards, a tasting by the river, a wedding reception in your garden or a toast for your company's clients. An attentive host, Maurice brings conviviality to your events.
When there is insufficient room for our four-wheeled ambassador ... "Mini-Maurice" is there! As distinguished as his big brother, our 50's scooter slips into the smallest places. Let's take the bottles out of the trunk, close it, ... and hop! Here is a mini-bar ready to welcome an unforgettable tasting.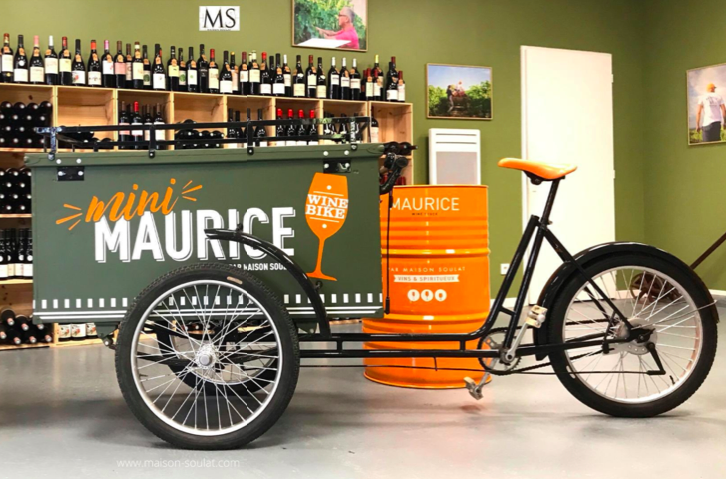 How to invite Maurice?
Maurice and Mini-Maurice love parties. Let's be honest, they don't miss a chance to take the road. 

Would you like to rent Maurice or Mini-Maurice, for an afternoon or a weekend?